About Daily Homework for Prelims and Mains
1. Make a separate notebook for this section.
2. Write down the questions provided daily.
3. Try to dig out all the facts related to given questions.
4. Daily revise the notes before next target
FOR PRELIMS AND MAINS COMBINED

CURRENT PORTION
2 irrigation facilities in Telangana get heritage tag
A meeting of the International Executive Council, the highest decision making body of International Commission on Irrigation and Drainage (ICID), at Saskatoon in Canada last month has accepted Telangana government's nomination of Sadarmatt anicut across river Godavari in Nirmal district and Pedda Cheruvu in Kamareddy district in the ICID Register of Heritage Irrigation Structures.

The plaques presented by the council for the two over-century-old irrigation facilities were received by the Member Secretary, Indian National Committee on Surface Water as Indian representative at the meeting.
About Sadarmatt anicut
This award is a deserving recognition to Sadarmatt anicut which has provided precious water for paddy crops in its designed ayacut of 13,100 acres in present day Khanapur and Kadem mandals since its construction in 1891-92.

The anicut, which is English word for Telugu's ana-katta, meaning a rainfall bund, was built by Nawab Ikbal-ud-Dowla who bore the tile of Vicar-ul-Umrah Bahadur in 1891-92 about 50 km downstream of the Sri Ram Sagar Project (SRSP) and is chiefly fed by Sawrnavagu stream after the construction of SRSP.

C.E. Wilkinson was the Taluqdar then and J.J. Ottley was the engineer and Khanapur was a jagir of the Nawabs during the rule of the Nizam of Hyderabad.

Sadarmatt bund is 437.4 m long on its left flank and 23.8 m on its right flank.
About Pedda Cheruvu
The Pedda Cheruvu (big tank in Telugu) located on the outskirts of this district headquarters town is spread over an area of 618 acres and was built in 1897 during the rule of Mir Mahaboob Ali Khan, the sixth Nizam of Hyderabad State.

It has a 1.8-km-long tank bund and 145-metre weir and three sluices. It's catchment area is spread over 68.97 sq. km. and total flood flow is 8,860 cusecs.

With a capacity of 0.175 tmcft it provides water for irrigation to over 900 acres in Kamareddy, Sarampally, Narsampally and old Rajampet.
Bathukamma festival
It also provides drinking water for residents of the area.

Womenfolk play Bathukamma during the Navaratrotsavalu on its bund and immerse them in its waters.

It is a picnic spot for residents of the area. Consequently, the Government wanted to develop it as a tourist spot by creating the necessary infrastructure.

Moreover, this tank was taken up under the second round of Mission Kakatiya to be developed as a mini tank bund with an estimated outlay of 6.6 crore.
About ICID
The International Commission on Irrigation and Drainage (ICID), established in 1950 is a leading scientific, technical, international not-for-profit, non-governmental organization.

ICID is a professional network of experts from across the world in the field of irrigation, drainage, and flood management.

The main mission is to promote 'Sustainable agriculture water management' to achieve 'Water secure world free of poverty and hunger through sustainable rural development'.

ICID is a knowledge sharing platform dedicated to issues that covers the entire spectrum of agricultural water management practices ranging from rainfed agriculture to supplemental irrigation, land drainage, deficit irrigation to full irrigation, etc.

In addition, drainage of agricultural lands forms the core theme of commission's activities.

Floods and drought; the two extremes of increasingly variable climate as a result of potential climate change, also form the focus of activities.
Two Day Regional Conference on Good Governance Focus on Aspirational Districts
Organising agencies
The Department of Administrative Reforms and Public Grievances (DAR&PG), Government of India in association with Government of Madhya Pradesh
Organizing a Regional Conference on Good Governance with Focus on Aspirational Districts, in Bhopal
About the conference
Delegates from 12 States and 2 UTs will participate in the Conference. There will be 5 Technical sessions in the 2-day conference.

The themes include: ICT Enabled Education, Agriculture, Public Service and Grievance Management and Good Governance initiatives.
The Department of Administrative Reforms and Public Grievances (DAR&PG)
The DAR&PG has organized 28 Regional Conferences till date.

This Conference is an effort to create a common platform to share experiences in the formulation and implementation of Best Practices in Citizen Centric Governance and improved Public Service Delivery through e-Governance, transparent, accountable and citizen-friendly effective administration.
About DAR&PG
The Department of Administrative Reforms and Public Grievances is the nodal agency of the Government of India for administrative reforms as well as redressal of public grievances relating to the states in general and those pertaining to Central Government agencies in particular.

The Department endeavors to document and disseminate successful good governance practices by way of audio-visual media and publications.

The Department also undertakes activities in the field of international exchange and cooperation to promote public service reforms.
About Transformation of Aspirational Districts
Launched in January 2018, the 'Transformation of Aspirational Districts' initiative aims to remove this heterogeneity through a mass movement to quickly and effectively transform these districts.

The broad contours of the programme are Convergence (of Central & State Schemes), Collaboration (of Central, State level 'Prabhari' Officers & District Collectors), and Competition among districts driven by a spirit of mass Movement.

With States as the main drivers, this program will focus on the strength of each district, identify low-hanging fruits for immediate improvement, measure progress, and rank districts.

The 117 districts were identified from 28 states, at least one from each state, in a transparent manner by a committee of Senior Officers to the Government of India, in consultation with State Officials using a composite index of key data sets that included deprivation enumerated under the Socio-Economic Caste Census, key health and education sector performance and state of basic infrastructure.

This programme is a policy priority of Government of India. NITI Aayog anchors the programme with support from Central Ministries and the State Governments. While NITI Aayog is steering the initiative in 30 districts, various central ministries oversee 50 districts besides the Ministry of Home Affairs, which focuses on 35 Left Wing Extremism (LWE) affected districts.

Officers at the level of Joint Secretary / Additional Secretary have been nominated to become the 'Central Prabhari Officers' of each district.

States have appointed state-nodal and Prabhari officers. An Empowered Committee under the Convenorship of the CEO, NITI Aayog will help in the convergence of various government schemes and streamlining of efforts.

The NITI Aayog during June 2018 launched the first Delta ranking (incremental progress) for the Aspirational Districts, based on self-reported data of districts between March 31, 2018 to May 31, 2018, across five developmental areas of Health and Nutrition, Education, Agriculture and Water Resources, Financial Inclusion and Skill Development, and Basic Infrastructure.

The Districts started entering data from 1st April, 2018 in the Champions of Change Dashboard and 108 districts out of total 112, participated in this ranking.

Data entry by remaining four districts is also in progress, though they are not part of this ranking.

This Delta ranking takes a step further and looks into specific aspects of Sustainable Development Goals (SDGs) and analyses how districts have performed in last two months across important sectors.
MOVE: India's First Global Mobility Summit 2018
Prime Minister inaugurated MOVE: India's ever first Global Mobility Summit organized by NITI Aayog
Objective
The focus of the summit is on raising awareness about various aspects of Mobility and bringing various stakeholders involved in enhancing mobility across different platforms.
Participants
Representative from various Intergovernmental Organizations, Academia, Policy Think tanks from India and abroad, Global leaders from across the mobility sector such as OEMs, Battery Manufacturers, Charging Infrastructure Providers, technology Solution Providers will be sharing their views on enhancing mobility over the next two days during the summit.
About the summit
The Global Mobility Summit is the first of its kind, with over 2200 participants expected from across the world including leaders from the government, industry, research organizations, academia, think tanks and civil society. Components of the Summit include: the core conclave, digital exhibition, Mobility Week with Featured Events and a variety of stakeholder consultations.
Jal Bachao, Video Banao, Puraskar Pao Contest
Implementing Ministry
The Ministry of Water Resources, River Development and Ganga Rejuvenation announced the winners for the second fortnight (25 July- 08 August) of the Jal Bachao, Video Banao, Puraskar Pao contest.
Enlighten about the contest
Jal Bachao, Video Banao, Puraskar Pao contest was launched by the Ministry in collaboration with the MyGov portal of the Government of India with the objective of spreading awareness about water conservation.

Any Indian citizen can participate in the contest. He or she needs to shoot an original video on the theme.

Ministry of Water Resources, River Development and Ganga Rejuvenation appeals to the people of India to make and upload videos capturing the efforts, significant contributions, best practices in the field of Water Conservation, Optimum Water Utilization and Water Resource Development and Management in different parts of the country.
STATIC PORTION – GEOGRAPHY + ECONOMY

India River System – Peninsular Rivers India
Peninsular Rivers flowing in Arabian Sea (East → West)
Forms only Estuaries

No Delta → Due to Hard rocks & lack of Distributaries
| | | |
| --- | --- | --- |
| Luni | Sabarmati | Mahi |
| Narmada | Tawa | Tapi |
Luni

Desertic river, also known as the Sagarmati

Rises from the western slopes of the Aravalli Range near Ajmer

Ends in the marshy lands of Rann of Kutch in Gujarat

Inspite of high salinity, it is a major river in region

Serves as a primary source of irrigation

Sabarmati

Rises from Dhebar lake in Aravalli Range of the Udaipur (Rajasthan)

Flow Route: Udaipur → Gulf of Khambat → Arabian Sea via Estuary

Mahi

Rises from Vindhya range (MP)

flows through MP, Rajasthan & Gujrat & drains in Gulf of Cambay

Famous Projects → Banswara Dam & Kadana dam

Narmada

Origin → Amarkantak, Shahdol, MP

Also known as Rewa River

Flows through rift valley of Vindhya & Satpura

Flow Route: MP → Bharuch (Gujrat) → Gulf of Khambat (Gujrat) → Arabian Sea via Estuary

Longest among all east to west flowing rivers

Known as Life line of MP

Forms Duandhar falls at Jabalpur

Tributary → Hiran River, Tawa River, Kolar River
Aliabet → Largest Island in Estuary

Famous projects →Sardar Sarovar Dam, Maheshwar Dam, Indira Gandhi Sagar Dam

Tawa

Rises in the Satpura Range of Betul (MP)

Narmada's longest tributary

Tapi

Origin → Mahadev hills, Satpura range, Betul district, MP
Flow Route: MP   → Maharashtra → Gulf of Khambat or Cambay → Arabian Sea via Estuary
Famous projects → Kakrapar Dam & Ukai Dam

Periyar

Rises from Western Ghats in Kerala

Flows towards west & drains in Arabian Sea via an estuary

Note → JOG falls, made by Sharavati river in Karnataka is Highest in India
---
Peninsular Rivers flowing in Bay of Bengal ( West → East)
Penganga

Sabri

Wardha

Indravati
Kaveri

Penner

Vaigai (Drains in Gulf of Mannar)
Mahanadi

Origin → Dandakaranya Hills, Raipur
Flow Route: Chhattisgarh → Orissa → EGs → BOB
Famous Project : Hirakund Dam

Godavari

Origin → Triambakeshwar Plateau, Nashik, WGs

Largest Peninsular River

Known as Dakshina / Vriddha Ganga

Flow Route: Nashik  → Andhra Pradesh → BOB
Famous Tributaries → Penganga, Sabri, Wardha & Indravati
Famous Projects     →  Poochampad,  Jayakwadi, Polavaram

Penganga

Rises from Ajanta hills (Maharashtra)

a tributary of River Wardha which finally merges into Godavari

Krishna

Origin → Mahabaleshwar, Maharashtra, WGs
Flow Route: Maharashtra → Andhra Pradesh → BOB
Famous Projects → Koyna, Tugrabhdra, Srisailam & Nagarjuna Sagar Dam

Tungabhadra

a major tributary of Krishna

Rises from Western Ghats

Bhima

Rises from Balaghat range (Maharashtra)

Tributary of Krishna

Kaveri

Origin → Brahamgiri hills, Karnataka, WGs
Flow Route: Karnataka → Kaveripatnam (TN) →BOB

Perrenial River

Forms Shivasundaram Waterfalls

Famous projects → Krishnaraja sagar & Mettur

Penner 

Rises from Karnataka

Flows b/w Krishna & Kaveri

Drains into BOB

Vaigai

Rises from Palni hills (TN)

A seasonal river flows through TN

Drains in Gulf of Mannar
Budgeting Terms
Theory and Concept of Budget
• There is a constitutional requirement in India (Article 112) to present before the Parliament a statement of estimated receipts and expenditures of the government in respect of every financial year which runs from 1 April to 31 March.
• This 'Annual Financial Statement' constitutes the main budget document.
• Further, the budget must distinguish expenditure on the revenue account from other expenditures.
• Therefore, the budget comprises of the
(a) Revenue Budget and the
(b) Capital Budget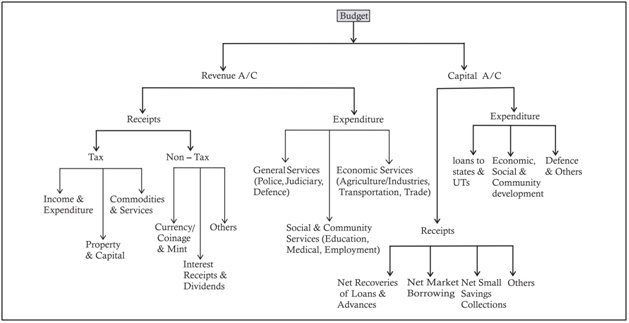 Components of Government Budget
I. Revenue Budget
The Revenue Budget shows the current receipts of the government and the expenditure that can be met from these receipts.
Revenue Receipts
• Revenue receipts are divided into tax and non-tax revenues.
• Tax revenues consist of the proceeds of taxes and other duties levied by the central government.
• Tax revenues, an important component of revenue receipts, comprise of
– Direct taxes – which fall directly on individuals (personal income tax) and firms (corporation tax), and
– Indirect taxes like excise taxes (duties levied on goods produced within the country), customs duties (taxes imposed on goods imported into and exported out of India) and service tax.
• Non-tax revenue of the central government mainly consists of
– Interest receipts (on account of loans by the central government which constitutes the single largest item of non-tax revenue)
– Dividends and profits on investments made by the government
– Fees and other receipts for services rendered by the government.
– Cash grants-in-aid from foreign countries and international organizations are also included.
• The estimates of revenue receipts take into account the effects of tax proposals made in the Finance Bill. A Finance Bill, presented along with the Annual Financial Statement, provides details of the imposition, abolition, remission, alteration or regulation of taxes proposed in the Budget.
Revenue Expenditure
• Revenue expenditure consists of all those expenditures of the government which do not result in creation of physical or financial assets.
• It relates to those expenses incurred for the normal functioning of the government departments and various services, interest payments on debt incurred by the government, and grants given to state governments and other parties (even though some of the grants may be meant for creation of assets).
• Budget documents classify total revenue expenditure into Plan and Non-plan expenditure
• Plan revenue expenditure relates to central Plans (the Five-Year Plans) and central assistance for State and Union Territory Plans.
• Non-plan expenditure, the more important component of revenue expenditure, covers a vast range of general, economic and social services of the government. The main items of non-plan expenditure are interest payments, defence services, subsidies, salaries and pensions. Interest payments on market loans, external loans and from various reserve funds constitute the single largest component of non-plan revenue expenditure. They used up 41.5 per cent of revenue receipts in 2004-05. Defence expenditure, the second largest component of non-plan expenditure, is committed expenditure in the sense that given the national security concerns, there exists a little scope for drastic reduction.
• Subsidies are an important policy instrument which aim at increasing welfare. Apart from providing implicit subsidies through under-pricing of public goods and services like education and health, the government also extends subsidies explicitly on items such as exports, interest on loans, food and fertilizers.
II. The Capital Account
The Capital Budget is an account of the assets as well as liabilities of the central government, which takes into consideration changes in capital. It consists of capital receipts and capital expenditure of the government. This shows the capital requirements of the government and the pattern of their financing.
Capital Receipts
• The main items of capital receipts are loans raised by the government from the public which are called market borrowings, borrowing by the government from the Reserve Bank and commercial banks and other financial institutions through the sale of treasury bills, loans received from foreign governments and international organizations, and recoveries of loans granted by the central government.
• Other items include small savings (Post-Office Savings Accounts, National Savings Certificates, etc), provident funds and net receipts obtained from the sale of shares in Public Sector Undertakings (PSUs).
Capital Expenditure
• This includes expenditure on the acquisition of land, building, machinery, equipment, investment in shares, and loans and advances by the central government to state and union territory governments, PSUs and other parties.
• Capital expenditure is also categorized as plan and non-plan in the budget documents.
• Plan capital expenditure, like its revenue counterpart, relates to central plan and central assistance for state and union territory plans.
• Non-plan capital expenditure covers various general, social and economic services provided by the government.
Summary
• The budget is not merely a statement of receipts and expenditures. Since Independence, with the launching of the Five-Year Plans, it has also become a significant national policy statement.
• The budget, it has been argued, reflects and shapes, and is, in turn, shaped by the country's economic life.
• Along with the budget, three policy statements are mandated by the Fiscal Responsibility and Budget Management Act, 2003 (FRBMA).
• The Medium-term Fiscal Policy Statement sets a three-year rolling target for specific fiscal indicators and examines whether revenue expenditure can be financed through revenue receipts on a sustainable basis and how productively capital receipts including market borrowings are being utilized.
• The Fiscal Policy Strategy Statement sets the priorities of the government in the fiscal area, examining current policies and justifying any deviation in important fiscal measures. The Macroeconomic Framework Statement assesses the prospects of the economy with respect to the GDP growth rate, fiscal balance of the central government and external balance.