About Daily Homework for Prelims and Mains
1. Make a separate notebook for this section.
2. Write down the questions provided daily.
3. Try to dig out all the facts related to given questions.
4. Daily revise the notes before next target
FOR PRELIMS AND MAINS COMBINED

CURRENT PORTION
111 utility helicopters procurement approved by DAC
Defence Acquisition Council (DAC) chaired by Defence Minister Nirmala Sitharaman has approved procurement of 111 utility helicopters for Indian Navy at cost of over Rs 21,000 crore.
About DAC
DAC is Union Defence Ministry's highest decision making body on capital procurement of Indian Armed Forces (Army, Navy and Air Force).
Strategic Partnership (SP) Model
The procurement of 111 utility helicopters will be the first project under Defence Ministry's Strategic Partnership (SP) model

Indian Navy will shortlist helicopter it wants after extensive evaluation process which will be followed by contract where most of these helicopters will need to be built in the country in conjunction with local partners.

The SP model will provide vibrant and widespread Defence industrial eco-system in Indian Aviation Sector with private industry and MSMEs as major stakeholders

It envisages indigenous manufacturing of major defence platforms by Indian Strategic Partner, who will collaborate with foreign OEMs (original equipment manufactures), acquire niche technologies and set up production facilities in country.

The model has long-term vision of promoting India as manufacturing hub for defence equipment.

It will help in enhancing self sufficiency and establishing an industrial and R&D ecosystem, capable of meeting future requirements of Indian Armed Forces
---
India's first inter-state transmission system (ISTS) auction – Bhuj Gujrat
What
India's first inter-state transmission system (ISTS) auction, was commissioned in Bhuj, Gujarat.

It was part of India's first ISTS auction was conducted by state-run Solar Energy Corporation of India Ltd (SECI) in February 2017.
About ISTS auction
This was bid for projects to be connected on ISTS wherein power generated from one state (renewable resource rich state) can be transmitted to other renewable deficient states.

The energy generated from this project is being purchased by Bihar, Odisha, Jharkhand and Uttar Pradesh.

The first auction signifies major shift from earlier regime of state-specific feed-in-Tariff (FiT) model to PanIndia, market-driven mechanism.

It also marks beginning of capacity additions in wind power based on market discovered tariffs, in line with the Government's plan of having 175 GW renewable energy by 2022
---
G20 Digital Economy Ministerial Meeting – Salta , Argentina
What
The G20 Digital Economy Ministerial Meeting was held in Salta, Argentina from 23 to 24 August, 2018.
Theme
The theme of the meeting was 'Building consensus for fair and sustainable development'.
About the issues
Its three key issues for the agenda were future of work, infrastructure for development, and sustainable food future.

It concluded with adaptation of declaration that reflects G20's commitment towards promoting policies and actions that catalyze digital transformations.

The other focus areas which were also deliberated included digital inclusion in particular gender divide, digital government, digital infrastructure and measuring digital economy

They also agreed to promote digital government and digital infrastructure, strengthen digital skills of workforce, deepen analysis towards digital economy measurement and to share experiences and lesson learned.
G20 Group of Twenty (G20)
It is premier forum for international economic cooperation and decision-making.

It is a forum for governments and central bank governors from 20 major economies to focus on economic issues and other important development challenges.

The G20 comprises of total 19 countries plus European Union (EU), representing 85% of global GDP, 80% of international trade, 65% of world's population.

Its members include Australia, Argentina, Brazil, Canada, China, India, France, Germany, Indonesia, Italy, Japan, South Korea, Mexico, Saudi Arabia, Russia, Turkey, South Africa, UK, US and EU.
---
The Bombay Natural History Society (BNHS)
BNHS will start operating its first regional centre or avifauna observatory on the campus of Wetland Research and Training Centre near Chilika Lake (Asia's largest brackish water lagoon), Odisha.
About the observatory
The avifauna observatory will carry out research on avian disease by collecting samples and monitor Nalabana Bird Sanctuary.

It will be engaged in identifying air route of foreign birds flocking Chilika lake during winter, sample collection, training related to bird census, publishing bird migration atlas books, examining various diseases among the birds and review condition of Nalabana bird sanctuary along with counting birds.
Bombay Natural History Society (BHNS)
BNHS is one of the largest non-governmental organisations in India engaged in conservation and biodiversity research.

It was founded on 15 September 1883 and headquartered at Hornbill House, Mumbai.

It supports many research efforts through grants and publishes Journal of Bombay Natural History Society.

Department of Science and Technology has designated as 'Scientific and Industrial Research Organisation
Chilika Lake
It is largest coastal lagoon or brackish water lake in India and Asia and second largest lagoon in the world (after The New Caledonian barrier reef in New Caledonia).

It is located at mouth of Daya River, owing into Bay of Bengal.

It is spread over Puri, Khurda and Ganjam districts of Odisha on east coast of India, covering an area of over 1,100 km sq.

It hosts nearly one million birds with 97 species being intercontinental migratory in nature during the winter season.

It is largest wintering ground for migratory waterfowl found anywhere on Indian subcontinent.

It was first waterbody in Indian to be designated as wetland of international importance under the Ramsar Convention in 1981.
---
Marine Hydraulic system in INS Vikramaditya
India's only aircraft carrier INS Vikramaditya for the first time will be fitted with marine hydraulic system to boost the air operations of the ship.
Why
Two marine hydraulic system technically termed as"GS-1MF" and "GS-3" will be fitted in the aircraft carrier
Marine hydraulic systems GS-1MF and GS-3
It will be used for refuelling, cleaning and pressurisation of hydraulic systems of aircraft and helicopters on board INS Vikramaditya.

GS-1MF hydraulic system is used in helicopters, while GS-3 is used in aircraft.

The upgrades and sea trials these systems will be done in India.

The system will be installed by Technodinamika, a subsidiary of Russia's Rostec State Corporation by May 2019.
INS Vikramaditya
India had purchased it in 2004 from Russia at cost of $2.3 billion and was commissioned in Indian Navy in November 2013 at Severodvinsk in Russia.

INS Vikramaditya design is based on Kiev-class aircraft carriers.

It is 284 metres long and 60 metres high (high as20-storeyed building).

It weighs 40,000 tonnes and is biggest and heaviest ship in e Indian Navy. Its air wing consists of 30 MiG 29K fighter jets and six Kamov helicopters.
---
3rd Indian Ocean Conference – Hanoi (Vietnam)
What
The third edition of Indian Ocean Conference was held in Hanoi, capital city of Vietnam from 27-28 August 2018.

It was inaugurated by External Affairs Minister Sushma Swaraj and her Vietnamese counterpart Pham Binh Min, Deputy Prime Minister and Minister of Foreign Affairs of Vietnam.
Organising agencies
The third edition of the Conference was organised by India Foundation in association with Diplomatic Academy of Vietnam, S Rajaratnam School of International Studies (RSIS), Sri Lanka and Bangladesh Institute of International and Strategic Studies.
Theme
Its theme was "Building Regional Architectures".

It will see participation from around 35 countries and have speakers from 25 countries.
Indian Ocean Conference
It has been initiated by Delhi based think tank India Foundation along with its partners from Singapore, Sri Lanka and Bangladesh.

The conference aims to bring together Heads of States/Governments, Ministers, thought leaders, scholars, diplomats, bureaucrats and practitioners from across the region on a single platform.

So far, two successful editions of conference were hosted in 2016 and 2017 in Singapore and Sri Lanka respectively.

Both Conferences were supported by Ministry of External Affairs (MEA) of India and had seen participation from over 35 countries.
---
STATIC PORTION-ECONOMY+POLITY
---
Complete details about 5 Year Plans in India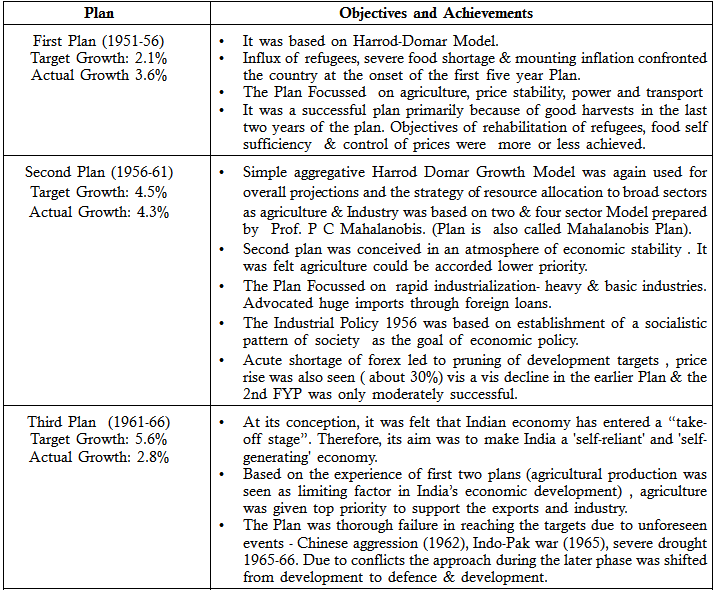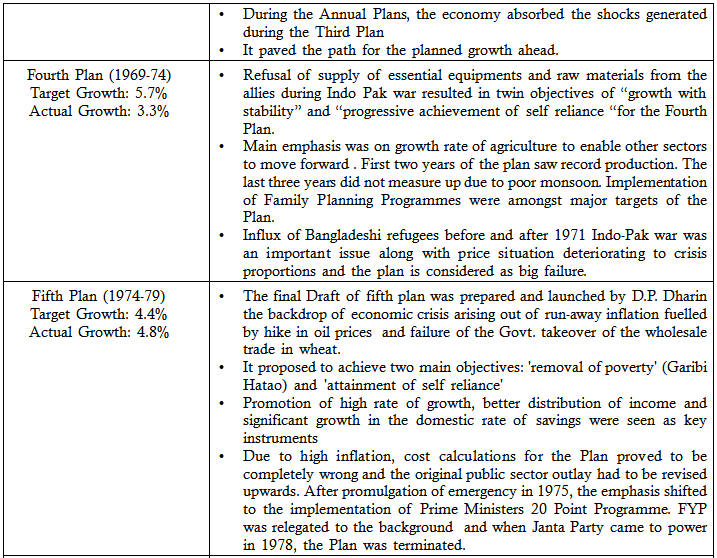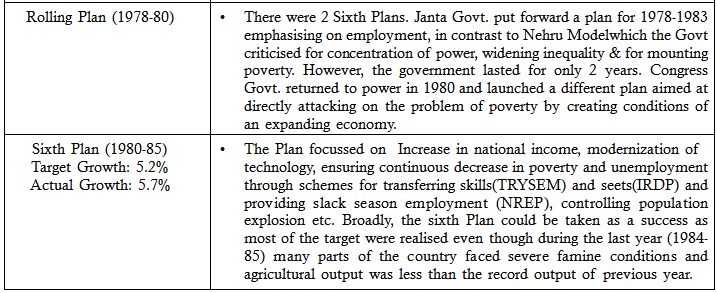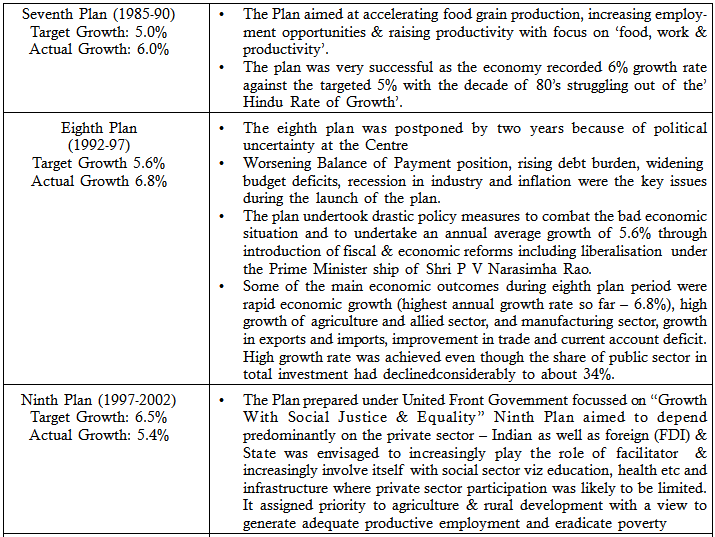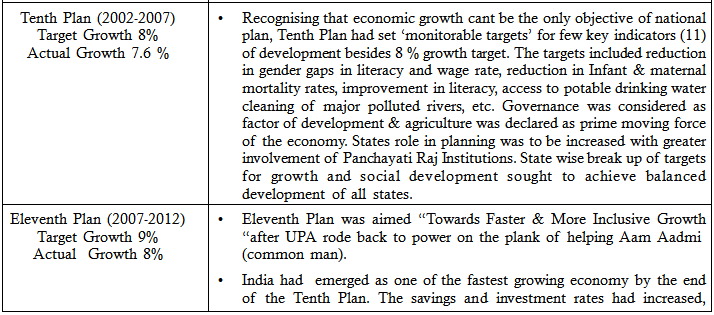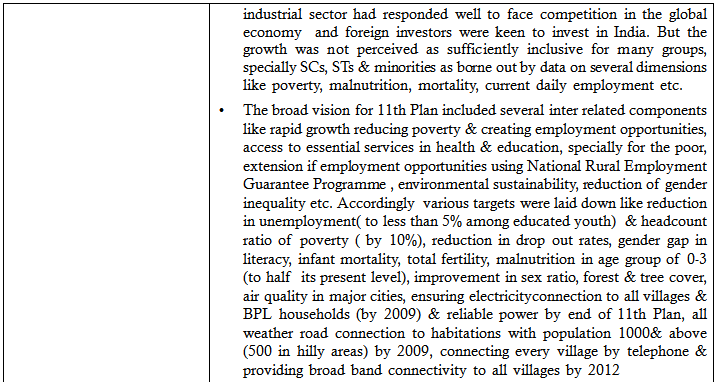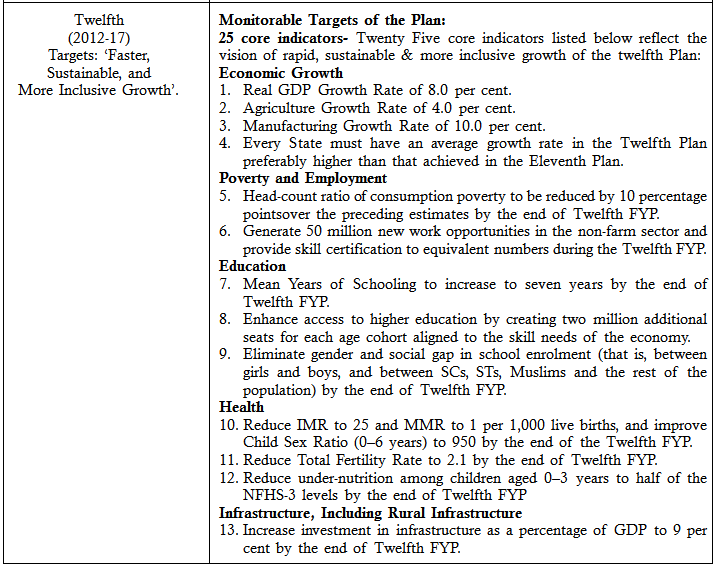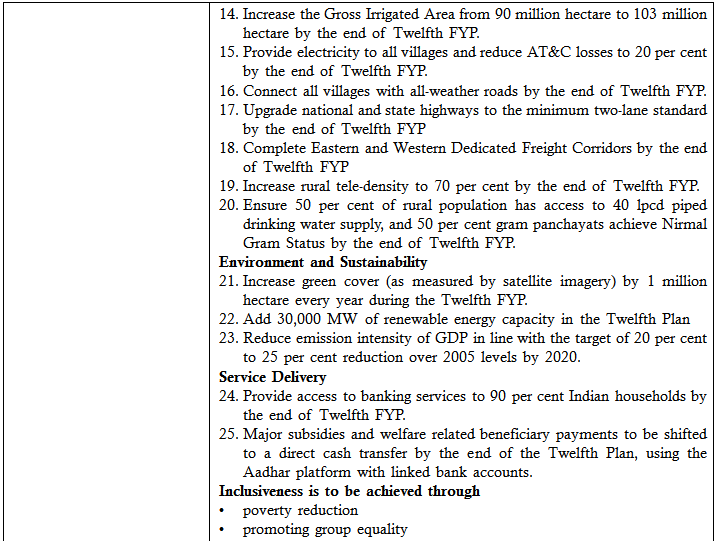 ---
NITI Aayog's Three Year Action Agenda
What is the Agenda about?
After dismantling Planning Commission and taking its place, NITI Aayog set to create 15-year long-term vision and subsequently the seven-year policy strategy along with Three Year Action Agenda.

This set the phasing out of Five Year planning as a concept completely.

But for the NITI Aayog's initiative to be an improvement on the Five Year Plan, pragmatic moves, such as delinking planning from finance, will be required.

The NITI Aayog's governing council, which is currently reviewing the "Three Year Action Agenda", comprises all chief ministers, mirroring the erstwhile National Development Council.
The "Three Year Action Agenda" seeks to embark on "a path to achieve all-round development of India and its people" through concerted action, outlined in seven parts covering multiple facets of the Indian economy.
What are the advantages of the Agenda?
Electoral cycles do not synchronise with five-year plans; quite often, this entailed outcome accountability to rest with a successor government.
But a "Three Year Action Agenda" makes the government in office more directly accountable for the implementation of its plans.

It gives the government an improved prospect to make corrections and adaptations during its own term in office.

Augmenting the "Three Year Action Agenda" with a seven-year implementable policy strategy and a 15-year vision allows adaptation to changing times and exogenous variables.

It enables us to look into the future, particularly at evolving technology, demography and ecology, and accordingly align our policies.

The 15-year vision is also somewhat coterminous with the Sustainable Development Goals (SDGs) of the United Nations (UN).

The new format thus combines domestic aspiration with global aims.

The agenda projects three scenarios for nominal GVA (Gross Value Added), namely, low growth, baseline and high growth.
Key Action Agenda Items:
Three Year Revenue and Expenditure Framework:
A tentative medium-term expenditure framework (MTEF) for the Centre with sector-wise expenditure allocation for three years.

Proposes reduction of the fiscal deficit to 3% of the GDP by 2018-19, and the revenue deficit to 0.9% of the GDP by 2019-20.

The roadmap consisting of shifting additional revenues towards high priority sectors: health, education, agriculture, rural development, defence, railways, roads and other categories of capital expenditure.
Agriculture: Doubling Farmers' Incomes by 2022
Reform the Agricultural Produce Marketing to ensure remunerative prices to farmers.

Raise productivity through enhanced irrigation, faster seed replacement and precision agriculture.

Shift to high value commodities: horticulture, animal husbandry, fisheries. 
Industry and Services: Job Creation
Create Coastal Employment Zones to boost exports and generate high-productivity jobs.

Enhance labour-market flexibility through reforming key laws

Address the high and rising share of Non-Performing Assets (NPAs) in India's banks through supporting auction of larger assets to private Asset Reconstruction Companies (ARCs) & strengthening SBI led ARC.
Action points for specific sectors include apparel, Leather and footwear, Electronics, Food processing, Gems and jewellery, Tourism, Finance, Real estate.
Urban Development
Need to bring down land prices to make housing affordable through increased supply of urban land
More flexible conversion rules from one use to another

Release of land held by sick units

Release of other urban land potentially available

More generous Floor Space Index.

Reform the Rent Control Act along the lines of Model Tenancy Act;

Initiate titles of urban property

Promote dormitory housing

Address issues related to city transportation infrastructure and waste management.
Regional strategies
Actions targeted aimed at improving development outcomes in the
North Eastern Region,

Coastal Areas & Islands,

North Himalayan states and

Desert and Drought prone states.
Transport and Digital Connectivity
Strengthen infrastructure in roadways, railways, shipping & ports, inland waterways and civil aviation.

Ensure last-mile digital connectivity, particularly for e-governance and financial inclusion, through developing infrastructure, simplifying the payments structure and improving literacy.

Facilitate Public-Private Partnerships.by reorienting the role of the India Infrastructure Finance Company Ltd. (IIFCL), introducing low cost debt instruments and operationalizing the National Investment Infrastructure Fund (NIIF). 
Energy
Adopt consumer friendly measures such as provision of electricity to all households by 2022, LPG connection to all BPL households, elimination of black carbon by 2022, and extension of the city gas distribution programme to 100 smart cities.

Reduce the cross-subsidy in the power sector to ensure competitive supply of electricity to industry.

Reform the coal sector by setting up a regulator, encouraging commercial mining and improving labour productivity. 
Science & Technology
Create comprehensive database of all government schemes and evaluate them for desirable changes

Develop guidelines for PPPs in S&T to improve education and industry-academia linkages for demand-driven research

Channel S&T to address development challenges such as access to education, improving agricultural productivity and wastewater management.

Create a "National Science, Technology & Innovation Foundation" to identify and deliberate national issues, recommend priority interventions in S&T and prepare frameworks for their implementation

Streamline the administration of the patent regime 
Governance
Re-calibrate the role of the government by shrinking its involvement in activities that do not serve a public purpose and expanding its role in areas that necessarily require public provision

Implement the roadmap on closing select loss-making PSEs and strategic disinvestment of 20 identified CPSEs.

Expand the government's role in public health and quality education.

Strengthen the civil services through better human resource management, e-governance, addressing anomalies in tenures of secretaries and increasing specialization and lateral entry.  
Taxation and Regulation
Tackle tax evasion, expand the tax base and simplify the tax system through reforms. For example, consolidate existing custom duty rates to a unified rate.

Create an institutional mechanism for promoting competition through comprehensive review and reform of government regulations across all sectors.

Strengthen public procurement
The Rule of Law
Undertake significant judicial system reforms including increased ICT use, structured performance evaluation and reduced judicial workload.

Legislative, administrative and operational reforms of police are suggested to the states.
Education and Skill Development
Shift the emphasis on the quality of school education paying particular attention to foundational learning.

Move away from input-based to outcome-based assessments

Rank outcomes across jurisdictions

Use ICT judiciously to align teaching to the student's level and pace

Revisit the policy of automatic promotion up to eighth grade

Create a tiered regulation of universities and college to provide greater autonomy to top universities under the current system.

Focus on creating and funding public universities under the World Class Universities program.
Health
Focus on public health through significantly increasing government expenditure on it, establishing a focal point and creating a dedicated cadre.

Generate and disseminate periodic, district-level data as per uniform protocols.

Formulate a model policy on human resources for health, implement a bridge course for nurses/AYUSH practitioners in primary care.

Reform IMC Act and the acts governing homeopathy and Indian systems of medicine

Launch the National Nutrition Mission; develop a comprehensive Nutrition Information System.
Building an Inclusive Society
Enhance the welfare of women, children, youth, minorities, SC, ST, OBCs, differently abled persons and senior citizens.

Develop a composite gender-based index to reflect the status of women in the country.

Introduce skill-based education and extra-curricular activities as a mandatory part of school curricula; design innovative conditional cash transfer schemes to encourage girls' education.
Environment and Water Resources:
Adopt sustainable practices and streamline regulatory structures to support high economic growth.

Adopt measures to tackle city air pollution

Revisit the policy towards felling of trees on private land and transport of trees

Promote sustainable use of water resources by improving groundwater management, adopting smart water meters for specific industrial units and enhancing the regulatory environment in the sector.
How can this Agenda be realised?
It would be advantageous to constitute a separate parliamentary committee on planning, which could meaningfully engage with the NITI Aayog's policy prescriptions.
It would also be desirable to create state-level bodies, to be called Sub-National Institutes for Transforming India (SuNITI), in formulating and expediting state-specific policies.

This should enable state assemblies to discuss state-level plans in sync with the "Three Year Action Agenda".

In the notification constituting the NITI Aayog, there is a provision to form "Regional Councils to address specific issues impacting more than one state or a region".

This is the right time to implement this enabling mandate.
---
Commonly Used Terms in Parliament
| | |
| --- | --- |
| Re – Election | Takes place due to rigging, booth capturing, countermanding or employing any other unfair means during elections |
| Bye Election | When seat is rendered vacant (Due to death, resignation or any other subsequent disqualification of member originally elected) |
| Midterm election | If LS or state assembly is dissolved well before the expiry of its full term then the elections are held to constitute new house |
| Leader of Opposition | Leader of largest opposition party in LS having at least 1/10th of the strength of the house |
| Lame Duck Session | Refers to last session of old parliament, held after a new LS has been elected as a result of general elections. Lame ducks under it are those members who were part of old house but could not get re-elected for the new house |
| | |
| --- | --- |
| Filibuster | Parliamentary device of long winded speeches, not necessarily relevant to delay a matter under consideration for voting (Not practised in India) |
| Snap Vote | Refers to a vote taken unexpectedly without voters being briefed or informed about it in advance |
| Gerry Mandering | Reorganisation of electoral districts by political party in power in attempt to gain advantage in upcoming elections |
| Hung Parliament | After a general election, when no political party or combination of parties is in position to form a government by majority |
| Guillotine | When due to lack of time, demand of grants are put to vote whether they are discussed or not in the house on last working day of allotted time |
| Quorum | Minimum required number of members present to validly transacts the business of the house (1/10th of total members of the house including presiding officer) |
| Point of order | A process, which when raised has effect of suspending the proceedings before the house & member who is on his legs gives away |
Breach of privileges & contempt of parliament
When any individual or authority disregards any of the privileges & immunities, either of the member or of the house, the offence is called breach of privileges.

Any act which impedes either the house or performance of official function of the house or of any of its member, is called contempt of parliament
Delegated / Subordinate legislation
MPs / MLAs make laws only in broad skeletal form, Executives fill up the minor details

When legislatures outsource the law making work to the executives, then it is known as delegated / subordinate legislation

Committee on subordinate legislation examine the rules & regulations made by the executives & submit its report to the house

Hence parliament continues to keep its control over delegation